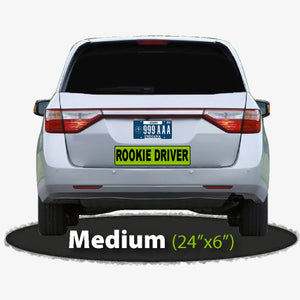 24x6" Rookie Driver Magnet Sign for Cars
A larger and highly visible 24 inch by 6 inch magnetic sign with the words Rookie Driver prominently displayed. Can be used on the rear as well as the door panels on most vehicles. Be sure to measure prior to ordering for the best fit. For maximum visibility, choose the largest sign your vehicle can accommodate with reflective lettering. This will be the most visible. Student driver signs are a great way to protect your new driver by alerting other drivers to use caution when in close proximity to your vehicle.
• Magnets only stick to steel. If your vehicle is aluminum or fiberglass, these will not work for you.